Boarding Facilities For Dogs
Our Canine accommodations are large indoor/outdoor style suites with private inside enclosures connected to full-sized, 17-foot long, outdoor enclosures. The outdoor terraces are very spacious and completely covered to allow your pet to exercise in all types of weather. The inside enclosures are heated in the winter, air conditioned in the hot summer months, with exhaust systems and paddle fans used for proper ventilation and air exchange. In addition, each dog is provided with raised platform kennel decking along with soft bedding and blankets for their further comfort. Soothing, piped-in music plays 24 hours a day for the relaxation of your pet.
Two Views of the Inside Kennel Area
Each canine guest boards in a spacious 4 x 5 ft (or 6 x 5 ft) inside enclosure. The inside areas are all separated by 6 foot tall, solid cement walls to give each guest total privacy while in the indoor enclosure. On the floor, each dog has a raised platform, called kennel decking, to keep them off the hard cement. This deck provides a high and dry platform should the dog have a urinary accident or just happens to kick over it's water bowl etc. In addition, we provide soft bedding and large quilted blankets for their further comfort.

The inside kennel area has large power exhausts, along with paddle fans overhead, to constantly move and exchange the air. We have forced air heating for the winter months, and air conditioning for the hot summer months. However, the most important element to keeping our canine guests happy and healthy is human contact, and we ensure that all of our guests receive lots of loving attention while in our care.

Each canine guest has a full 17 foot long outside run area which connects to their private inside area. The outside runs are fully covered; in fact, the overhang extends several feet beyond the runs. This keeps their outside runs nice and dry, even if it has been raining all day. It also protects the dogs from the hot sun during the summer. Each run is separated with a solid cement wall for safety and sanitation purposes. Instead of staring out at a large wall or privacy fence, the guests at Winding Creek look out over 36 acres of countryside. From their outside runs, our guests can see horses and cattle grazing in the pasture, along with our pet, Jasmine the donkey, who regularly patrols our fence line.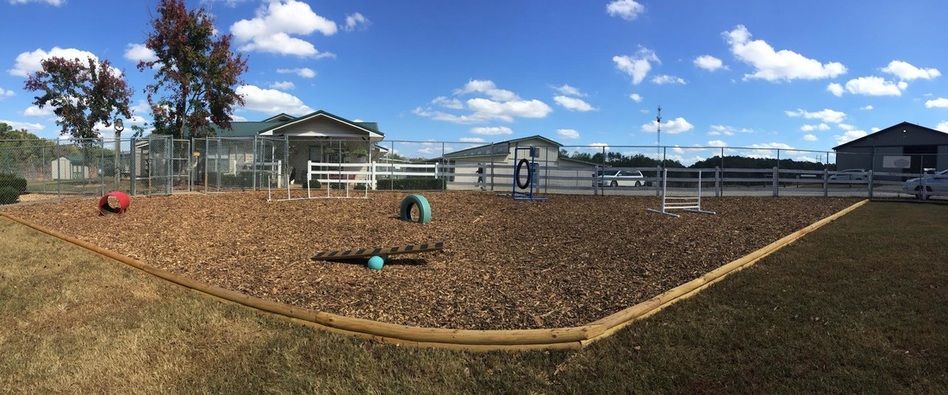 Our Front Yard play area offers agility toys like hoop jumps, weave poles and balance beams for our guests to interact with!